Weather Monitoring System
Pakistan Meteorological Department is both a technical as well as scientific national organization & has unique responsibility in Early Warning System of the country. PMD is striving hard to implement new tools and technologies for developing meaningful Early Warnings and dissemination to various stake holders for effective DRM.
Pakistan Meteorological Department (PMD) thanks World Food Program (WFP) management and specially Mr. Girma MAKONNEN (Head DRR programs) for extending financial support in following areas.
Establishment of AWS data communication system through GPRS technology
Establishment of AWS Data Communication System through GPRS
The GPRS communication system developed with the financial support of WFP helped in minimizing the operational cost. Previously satellite communication was being used that was very costly following table depicts the impact about reduction in operational cost.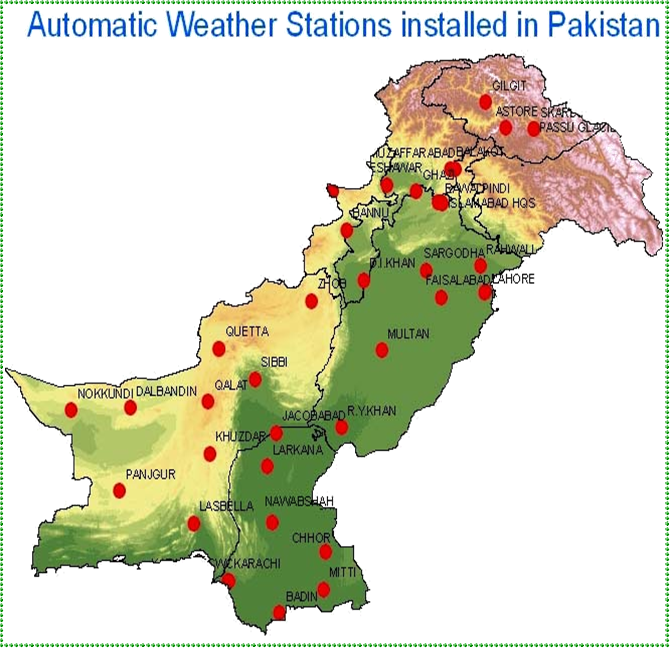 COMPARISION OF FINANCIAL ASPECTS OF GPRS & SATELLITE COMMUNICATION
| | |
| --- | --- |
| Monthly charges for satellite comunication for one message /  hr/ Site (24 observations per day) | Rs.  5500/= |
| Monthly GPRS data communication charges per site for on-line system with averaging 5 minute interval (12 message / hr  OR 286 Observations / day) |             Rs.  270/= |
Average operational cost saving per site = 5500 / 270   (20 times
.Read more |