Subject:            Meteorological Report for Tharparkar
In the wake of recent disaster confronting Tharparkar district, meteorological data has been analysed that depict that current disaster may be termed as "socio-economic disaster" rather than simply drought because seasonal and annual rainfall were moderately below to climatic averages.  The disaster may have occurred by moderately below average rains coupled with some epidemic and week socio-economic settings of the area. Therefore possible interventions may be made keeping in view the local conditions to support communities accordingly. The analysis is given below.
Monsoon rainfall (June-Sep) is the main source of water for Tharparkar region in which 87% of annual rainfall is observed. This rainfall impacts a lot to the livelihood of the people. Deficit in monsoon rainfall causes a lot of impacts on agro-socio-economic pattern of that area. During monsoon 2013, Tharparkar region received 70% of its normal rainfall in which Chhor received 94% of rainfall while Mitthi receive 46% of rainfall. However, 60 mm rainfall was recorded in Mithi during October 2013 that compensated the monsoon deficit in the area. The below two graphs depict the comparison between actual and normal rainfall from January 2013 to-date at Chhor and Mithhi.
<![if !word & !ppt & !excel & !vml]>
<![endif]>
<![if !word & !ppt & !excel & !vml]>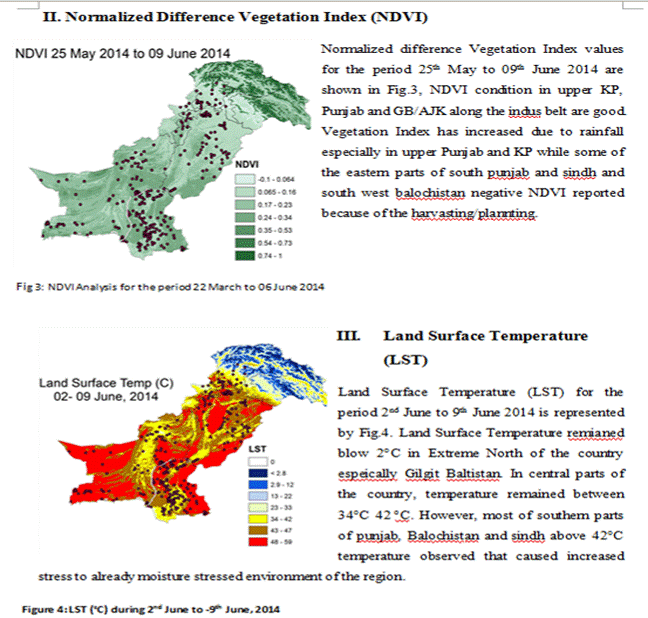 <![endif]>

Alert

During the year (March 2013-Feb 2014), 189 mm of rainfall has been recorded against normal of 277.2 mm in Mithi(-31.8% deficit)  and 222 mm rainfall has been recorded in Chhor against normal value of 246.5 mm(-5.6% deficit).

However, no significant rainfall has been recorded in Tharparkar district from November 2013 till date. Some rainfall is likely during 2nd fortnight of March 2014 but it may not contribute significantly to cater water requirements of the region. Therefore all possible interventions may be carried out to avert the disaster.

                                                                                                         (AZMAT HAYAT KHAN)

Director

Ph: 051-9250598, 0333-5101398

E-mail: dirndmc@gmail.com

                                            

<![if !vml]>