INTRODUCTION:
Pakistan Meteorological Department (PMD) is both a scientific and a service department, and functions under the Cabinet Secretariat (Aviation Division). It is responsible for providing meteorological service throughout Pakistan to wide variety of interest and for numerous public activities and projects which require weather information. In its services to aviation the department's responsibility goes to some extent beyond national boundaries in fulfillment of accepted international agreements and obligations which include, among other things, the collection and rebroadcast of meteorological data.
Apart from meteorology, the department is also extending services in the fields of Agrometeorology, Drought Monitoring, Hydrology, Astronomy and Astrophysics, Seismology, Geomagnetism, and studies on Renewable Energies Resource potential across various parts of the country. Pakistan Meteorological Department shoulders the responsibility to investigate the factors responsible for global warming, climate change its impact assessment and adaptation strategies in various sectors of human activities.
Main Objectives are to provide information on meteorological and geophysical matters with the objective of traffic safety in air, on land and sea, mitigation of disasters due to weather and geophysical phenomena, agriculture development based on climatic potential of the country, prediction and modification of weather forecast.
In pursuance of its objectives and responsibity, the department is contributing in;
Safety of civil aviation operations, VVIP flights and marine activities
Early warning of natural hazards due to Meteorological, Hydrological & Geophysical Phenomena such as Tropical Cyclones, Heavy Rains, Floods & Earthquakes etc.
Socio-Economic Development of the country based on climatic and agro-climatic potentials of different areas.
Boosting-up of Agricultural Productivity of the country by providing agromet services to the farming community.
To investigate the behavior of the atmosphere and exploiting this knowledge for short and long term weather predictions.
 A network of observing stations to generate meteorological, geophysical and phenological data.
A telecommunication system for speedy dissemination of data.
 Meteorological offices to analyse data for issuing forecasts and warnings for aviation, agriculture, shipping, sports, irrigation etc.
Issuance of Astoro information like sighting of moon, solar and lunar eclipse.
 Climatological and data processing units for scrutinizing, comparing and publishing data for appraisal of long term weather trends and earthquakes.
The Pakistan Meteorological Department, at the time of its establishment in 1947, inherited only 15 Meteorological Observatories from the Central Meteorological Organization then operating in the Subcontinent. The Department with its continuous efforts has improved weather forecasting capabilities by expanding the network of meteorological observatories, developing methods of observation, improving telecommunication facilities and forecasting techniques.
The major achievements of the Department are introduction of modern flood forecasting system, earthquake and nuclear explosion detection system, radar, satellite, computer technology, flight safety, consultancy services in seismic design of dams, buildings and other development and disaster relief schemes.
The Department has also played vital role in research work and its scientists have made valuable contribution. More than 350 scientific papers have been written and published in both national and international scientific journals. Major emphasis in the research has been laid on the field of climate change, Glaciology, renewable energy, arid zone research, ozone measurements, drought monitoring, Climate Modeling, Monsoon onset, solar energy, wind power potential, satellite meteorology and allied fields.
Many of the Research Organizations such as Arid Zone Research Institute (AZRI), Space and Upper Atmospheric Research Corporation (SUPARCO), and Pakistan Atomic Energy Commission (PAEC) started their functioning with the initial assistance of the Pakistan Meteorological Department. Meteorological services are extended on regular basis to Civil Aviation Authority (CAA), Federal Flood Commission (FFC), Pakistan Agriculture Research Council (PARC), National Disaster Management authority (NDMA), Climate Change Division, Ministry of Religious Affairs and National Food Security.
EXISTING ORGANIZATION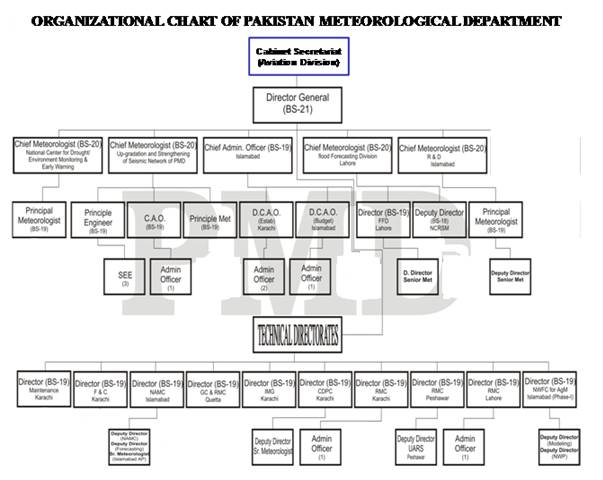 The Pakistan Meteorological Department is headed by Director General. Functionally, the Department is divided into four major divisions with head office located at Islamabad, Lahore and Camp office at Karachi, each headed by a Chief Meteorologist, as follows:
National Centre for Drought Monitoring, Islamabad
Research and Development Division, Islamabad
Flood Forecasting Division, Lahore
National seismic monitoring and Tsunami Warning Centre, Karachi
The organizational chart is given at annexure-IV. The field set up of the department is constituted as below:
Director ,Regional Meteorological Centre, Karachi.
Director ,Regional Meteorological Centre, Lahore.
Director ,Regional Meteorological Centre, Peshawar.
Director ,Geophysical Centre, Quetta.
Director ,Computerized Data Processing Centre, Karachi.
Director,National Agromet Centre, Islamabad.
Director, National weather forecasting Centre, Islamabad.
Director ,Institute of Meteorology & Geophysics, Karachi.
Director, Tropical Cyclone Warning Centre, Karachi.
Director ,Maintenance, Karachi.
Director, Flood Early Warning Centre, Lai, Nullah, Islamabad.
Chief Administration Officer, Islamabad
The recruitment on technical and administrative posts is carried out in accordance with approved recruitment rules and prevailing Government policies. Being the scientific department the proportion of administrative posts is very low as compared with scientific staff. All administrative cadres ranging from BPS-19 to BPS-5 carry only 5% of the total sanctioned strength.
The total manpower working in all grades and cadres is above 2520 at present, there are 2166 sanctioned posts in BPS-1 to BPS-15 irrespective of their technical/administrative cadre. In officers cadre (both technical/administrative) the sanctioned strength is 354 in BPS-16 and above.
Aviation meteorological services
Hydro-meteorological services and flood forecasting
Agro-meteorological services
Climatological services
Geophysical and seismological services
Weather forecasting services to public through  electronic & print news  media
Astronomical information services
Met-forecast for mountaineering  expedition marine meteorological services
NETWORK OF VARIOUS DISCIPLINES OF PAK. MET. DEPARTMENT
To fulfil its responsibilities, PMD has established operational and specialized centres that develop operational products for the benefit of disaster managers, planners and communities. A brief description of the operational and specialized centres of Pakistan Meteorological Department included in the above mentioned organizational setup are given below.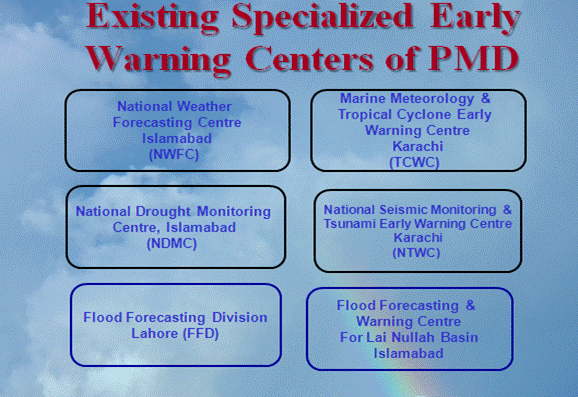 1) FLOOD FORECASSTING DIVISION LAHORE (FFD)
This centre was established in 1978 with the collaboration of UNDP. The operations of this centre are backed by the following objectives;
OBJECTIVE
Floods are without doubt the most devastating natural disasters, striking numerous regions in the world each year. During the last decades the trend in flood damages has been growing exponentially. This is a consequence of the increasing frequency of heavy rain, changes in upstream land-use and a continuously increasing concentration of population and assets in flood prone areas. In general, less developed countries are the most vulnerable to floods, causing damages that significantly affect the national GDP. At country and community levels important initiatives have and are being devoted to implement appropriate countermeasures, both structural and non-structural, aiming to alleviate the persistent threats of water-related disasters. Flood Forecasting forms an important tool in reducing vulnerabilities and flood risk and form an important ingredient of the strategy to "live with floods", thereby contributing to national sustainable development.
The Flood Forecasting Division (FFD) is serving the nation to improve the capacity of meteorological and hydrological services to jointly deliver timely and more accurate products and services required in flood forecasting and warning and in collaborating with disaster managers, active in flood emergency preparedness and response.
RESPONSIBILITY
Flood Forecasting
River stream flow forecasting
Water Management at Dams specially during Monsoon
Outputs:
Improved quantitative and qualitative weather forecasting products are available in such a way that these can be directly used for flood forecasting;.
Medium-range weather forecasting and climate prediction tools can be applied to extend warning times and produce pre-warning information;
NMHSs have improved their capacity to cooperate to jointly deliver timely and accurate flood forecasting information;
Integrated weather, climate and hydrological forecasting information are available in a relevant format for use by civil organizations responsible for disaster preparedness and mitigation.
TECHNICAL FACILITIES
10-cm Doppler Radar at (FFD) Lahore & Mangla.
QPM Radar at Sialkot.
Nationwide Network of Weather Surveillance Radars.
Satellite Ground Station
Computer Models
Meteorological Analysis Centre
a) TELEMETRIC NETWORK RAINFALL AND ORDINARY RAINFALL STATION
Flood forecasting division has a 45 telemetric rainfall network stations in the country. These all are installed in the catchments area of five major rivers in the country. Fifteen telemetric stations have installed in each of the catchments of Indus and Jhelum while eight at Chenab, 6 in Ravi and one at Sutlej catchments. There are 101 rainfall gauging stations in the country in which 39 are at Punjab, 18 at Khyber Pakhtunkhwa, 16 at Sindh and Balochistan each and 12 at Gilgit-Baltistan and Azad Kashmir.
b) QUANTITATIVE PRECIPITATION MEASUREMENT (QPM) RADAR.
This radar, with the wavelength of 5.3 CM is installed at Sialkot. It detects the position of clouds and precipitation within the radius of 230 Kilometers. This radar also covers 17 catchment areas of rivers. Another Doppler Radar is installed at Lahore which provides quantitative and three dimensional precipitation data in catchment areas of main reservoirs.
c) COMPUTER CENTRE
After the data have been received from the concerned quarters, it is processed by different models which are installed at FFD, Lahore. Then after every six (6) hours and based on the analysis and processed data, flood forecast report is produced daily for the concerned agencies.
2. AGROMET CENTRES IN PAKISTAN
Pakistan, being an Agricultural country, requires sufficient and accurate agromet data. Keeping in view this responsibility, a National Agromet Centre at Islamabad and five Regional Agromet Centres at Quetta, Tandojam, Faisalabad, Rawalpindi and Usta Muhammad were set up in the first phase of a UNDP sponsored project. These are fully functional now. This WMO/UNDP project is a part of an overall scheme to study meteorological factors in relation to crop production. This aims at maximizing the production and minimising the crop damages associated with the meteorological phenomena. Apart from these Centres, a forecasting office for agriculturists has also been established at Islamabad. This Centre named, National Agromet Centre (NAMC) issues necessary forecasts for the benefit of farmers and other related agencies. Main objective/functions of National and Regional Agromet Centres are described as under
2.1 National Agromet Centre (NAMC), Islamabad.
i. The centre is responsible to develop coordination and liaison with national authorities of agriculture and water sector to achieve best result from collaboration research and operational work.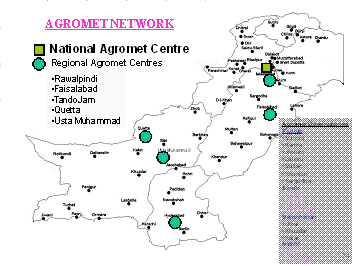 ii. Regular publication of "Monthly Agromet Bulletin of Pakistan" for farming community. This bulletin is published by the 5th day of each month and it includes both English and Urdu portions. More than 70 recipients are receiving this bulletin throughout the country from various disciplines of agriculture.
iii. Compilation of research work on crop-weather relationship on regional basis and its publication as well as dissemination to agriculture authorities.
iv. Establishment of agrometeorological data base for different agroclimatic zones of Pakistan. Agromet computer data processing for different agromet activities is an additional duty of this centre.
v. NAMC shares the research responsibilities on national level. Progressive work on water requirement of major and minor crops, crop and animal diseases and analysis for climatic soil moisture stress conditions is an integral part of research at this centre.
2.2 Regional Agromet Centres, Rawalpindi-Faisalabad-Quetta-Tandojam and Usta Muhammad
i. Preparation of crop reports in relation to prevailing weather conditions on regional level is the main responsibility of RAMCs. On the basis of these reports for several years, agrometeorological crop modeling work is in progress for major crops of different regions.
ii. RAMCs perform research in collaboration with agricultural scientists of the region on common and important issues. They actively participate infield research and provide processed data, as and when required in research investigations.
iii. Transmit regional information on crops and animals to national focal point NAMC, Islamabad. Prepare and disseminate agromet advisory for farmers of the region in consultation with local agriculture authorities.
Technically assist and help in establishing new agromet observing station when required. Perform calibration and maintenance of agromet instruments installed. RAMCs are responsible to trim technical main power of local agricultural related personnel and involved in agromet work.
NATIONAL DROUGHT MONITORING CENTRE.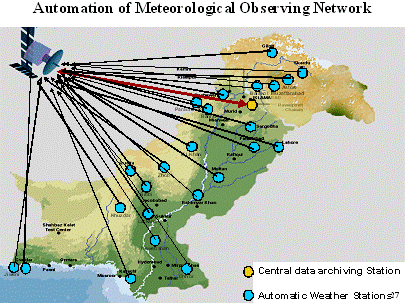 Droughts in Pakistan region are mainly due to failures of rains from southwest monsoon. Also there seems to be some association between El Nino and La Nina events and weak monsoons. Pakistan frequently experiences droughts in southern parts of country. The Punjab province experienced the worst droughts in 1899, 1920 and 1935. Khyber Pakhtunkhwa (KPK) experienced the worst droughts in 1902 and 1951, while Sindh had its worst droughts in 1871, 1881,1899,1931,1947 and 1999. Over more than hundred year's period between 1871-1988, 11 out of 21 drought years were El Nino years. The El Nino phase of the Southern Oscillations (ENSO) has direct impact on drought in Pakistan as it poses mainly negative impact on summer monsoon.
Pakistan Meteorological Department (PMD) took an initiative to establish National Drought/Environment monitoring and Early Warning Centre (NDMC) in 2004-05 after the worst drought during 1999-2001 in Pakistan. The main objective is to monitor drought situation in the country and issue advisory before time. Its national centre is in Islamabad while four Regional Drought Monitoring Centers (RDMC's) are in Lahore, Karachi, Peshawar and Quetta. These four RDMC's cover those region which comes under their jurisdiction. These centers serve as a hub for the monitoring, collection, consolidation and analysis of drought related data from all the possible sources in the country.  In order to strengthen the network, 50 Automatic weather stations (AWS) have been installed in different regions particularly the drought prone areas of the country. The data of eleven meteorological parameters (air temperature, humidity, wind speed, wind direction, dew point, sea level pressure, station level pressure, solar radiations, soil moisture at standard depths(5,10,20,50,100)cm and snow level are transmitted through satellite and GPRS technology. It has now become easy to access the data of remote areas of the country. NDMC has installed 335 Ordinary Rainguages have been installed at districts level in four provinces.
NDMC also monitoring the water level situation of small dams in Barani areas of the country. NDMC using different indices like Standardized Precipitation Index (SPI), Normalized difference Vegetation Index (NDVI), Cumulative Precipitation Anomaly (CPA), Rainfall Anomaly Index (RAI), Percent of normal, Probability of occurrence, Percentage departure and soil moisture analysis etc to monitor drought. NDMC issues fortnightly drought bulletin of the country. NDMC products can be accessed through website http://www.pmd.gov.pk/ndmc/index.htm
CLIMATE DATA PROCESSING CENTRE
INTRODUCTION
The Climatological Data Processing Centre (CDPC) based on personal computers (PCs) was established, within Pakistan Meteorological Department in September, 1988. CDPC is located at Meteorological Complex, Karachi. This center has been established for storage, processing, retrieval printing and supply of climatological & meteorological data to end users. Two Computerized Data Processing Centers, known as Regional Data Processing Centers have been established at Karachi and Lahore. Both these Regional Computer Centers and main center have been equipped with IBM Compatible PCs, which are being operated and utilized by trained meteorological personnel to meet the need of local & foreign end user
FUNCTIONS
Supply of meteorological data stored on computer media to end users according to their individual requirements.
To make efforts for establishment of computerized meteorological database in the country in accordance with WMO requirements.
Issuance of a monthly climate surface/ & TEMP message of 25 & 6 stations of Pakistan respectively through GTS to WMO designated regional hub for onward transmission on regular basis.
Scrutiny and quality control of all meteorological data available in the data bank.
Training and keeping adequate staff capable of both the computer operation and the processing of meteorological / climate data.
Development of various Meteorological, astronomical, statistical and Climatological products, in the form of tables, maps, graphs, wind roses etc..
Deals with sunrise/sunset, moonrise/moonset, coordinates of new moon on 29th of each lunar month for new moon lighting, solar and lunar eclipses, seasonal forecasts for summer and winter rains.
5. GEOPHYSICAL CENTRE,QUETTA
The Geophysical Centre, Quetta, has been responsible for work in the following disciplines:
Seismology.
Geomagnetism.
Atmospheric Physics.
Ionospheric Physics.
5.2. Seismic unit, at Geophysical Centre, Quetta, maintains the seismological observatories in the country and is responsible for the collection, analysis and publication of seismological data. It renders advice to construction engineers regarding the seismicity of the area concerned. Upper Atmospheric Research Station, Peshawar is responsible for issuing earthquake reports). Ozone and radiation data is also monitored and collected at this centre. A data set for radiation has been prepared by this centre and is being used by scientists working on harnessing the radiation and solar energy.
5.3 Upper Atmospheric Research Station, Peshawar is responsible for issuing earthquake reports. Ozone and radiation data is also monitored and collected at Global Atmospheric Watch Centre, Quetta. Data on solar radiation has been published for scientists working on harnessing the radiation and solar energy.
6.       National Seismic Monitoring and Tsunami Warning Centre Karachi
In the aftermath of tsunami of 2004, PMD chalked out a project to establish Tsunami Warning Centre. With the financial support of government and international institutions, a state of the art tsunami warning centre has been established. The system has the capability to process national and global data set within minutes and issue automated alerts through SMS to all concerned agencies less than 5 minutes of the occurrence of event.
The centre has established linkages to international tsunami warning centres and their data is also analysed to avoid false alarms.
7. INSTITUTE OF METEOROLOGY GEOPHYSICS (IMG) KARACHI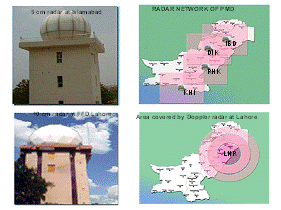 The Department's training institute at Karachi provides training to in-service personnel in Meteorology. Trainees of other organizations as well as from abroad also benefits from this Institute. Currently internationally recognized courses PGD level in Meteorology are offered. So far 2697 national and 55 international trainees have benefited from this institute. 
8. WEATHER SURVEILLANCE RADAR.
Continuing along the path of modernization and with the encouragement from the Government, two Weather Surveillance Radars have been installed at Karachi, Islamabad and RahimYar Khan with the assistance of Government of Japan. Precipitation measuring radar is going to be installed at Lahore with the financial assistance of Asian Development Bank.
These radars have the capability to monitor the weather systems and their characteristics upto a radius of 400 kms. Precipitation measuring radar bearing 10 cm wave length is going to be installed at Lahore with the financial assistance of Asian Development Bank.
Pakistan Meteorological Department is a member of:
a. World Meteorological Organization (WMO) and has affiliation with different agencies like UNDP, ESCAP Panel on Tropical Cyclone.
Pakistan Met. Department is also a member of SAARC Met. Research Centre, Dhaka, Bangladesh.
1. WEATHER FORECAST
(i) Daily
(ii) Weekly
(iii)    Fortnightly
(iv) Monthly / Seasonal
2. AERONAUTICAL FORECASTING
(i) Landing Forecast for Airports of Pakistan.
(ii) Route Forecasts for National/International Routes.
(iii) Individual Met. Briefing to pilots.
3. TROPICAL CYCLONE FORECASTING
(i) Detection of Depressions, Tropical Storm and Tropical Cyclone.
(ii) Tracking of these Weather Systems.
(iii) Forecasting of intensity of the Weather Systems.
4. MARINE FORECASTING.
(i) Coastal Area Forecasts (General Weather)
(ii) Forecasting of low/high tides.
5. RECEIPT OF MET. DATA
Data is received through:-
Communication Network (National & International)\
W.S.Radar Network.
Satellite imaginaries tracking
Upper Air data from various Met. Stations.
Data Collection Platform (D.C.P. i.e, equipment capable of receiving data dissemination from geostationary satellites).
GPRS transmission of data from AWS
6. TRANSMISSION OF MET. DATA.
(i) Through National & International Communication system.
(ii) A.F.T.N.
(iii) Data Distribution System (D.D.S.)
7. RELEASE OF MET. DATA.
(i) To Press/information media; the data are provided through telephone/fax.
(ii) National and neighboring countries forecast is presented through T.V and FM Network.
National and International aeronautical forecast in provided in the written form to the user agencies
Daily weather information is send via SMS to registered users.
Three days forecast at each station level may be obtained through IVR by dialing 111-MET-MET or 111-638-638
Aeronautical Weather Forecast charts (PROG Charts) are provided to the Airlines. The charts deal with the ground level to a height of 40,000 feet. These include the significant Aeromet weather and the forecasted weather at the destination/alternate aerodrome.
Farmers Bulletins are provided to all the regional broadcasting stations and newspapers. The information is also disseminated through website and via e-mail to registered users.
Airport Functionaries, associated with PMD, include:-
Civil Aviation Authority
National/International Airlines
Airport Security Force
Office accommodation, and services like electricity water etc., is provided by C.A.A. Requisition for route forecasts are received from National/International Airlines regularly. Weather service is provided by the Met. Offices at the airports. The current Weather Report (METARS) are provided on hourly/half hourly bases to the control tower of C.A.A. Similarly Weather Warnings, SPECIES, SIGMETS are also provided to them for onward transmission to the inbound/outbound and in flight aircrafts. Security matters regarding movement of Met. Staff is related to A.S.F. who provide the security facilities like security cards etc.
Research & Development Division
Meteorology is a vast and dynamic subject as interaction between atmosphere, hydrosphere and cryosphere along with local topographic and orographic features play an important role in weather and climate of this planet. Research and Development (R&D) division serves as a brain for all the advancements in all the realms. So, all the developed countries of the world allocated a lion's share in establishing R&D divisions in various scientific, social and economic arenas. Pakistan Meteorological Department is a stake holder in various sensitive national strategic and security concerns and a repository of the vital weather data with deep rooted influence in public regarding weather forecasting, agrometeorology, seismic, drought and tropical cyclones. PMD has taken a remarkable initiative in establishing R&D in 2003. Presently, there are more than 20 researchers undertaking research in different disciplines. Research and Development Division is split into following units:
Numerical Weather Prediction
Climate Change Assessment and Modeling
Seasonal Prediction
Glacier Monitoring and Snow Research
Pollen Monitoring
Achievements of R & D Division
Pakistan Journal of Meteorology has been launched & its 18th issue were out up till now.
Short and Medium Range Weather Forecast is successfully being provided, using High resolution regional models.
Assessment of trends in past climate has been made and future climate scenarios have been developed.
More than 120 research papers have been published/submitted in Pakistan Journal of Meteorology and more than 30 in international journals.
A chapter authored by R&D scientists is included in a book entitled "Mountains Witness of Global Changes" published by Elsevier Publishers.
2 scientists received SAARC Young Scientist and 2 Senior Scientist research awards.
Initiative in Glacier Monitoring since 2005. Collaboration with 05 international institutes/organization and 12 expeditions so far.
Number of presentations hve been made in National and International seminars, conferences & workshops.
A book titled "Wheat Yield Production & Climate Change in Potohar Region of Pakistan" authored by R&D scientists has been published by Lambert Academic Publishing.
More than 4 meteorologist of R&D division have completed their PhDs up till now and few more are carrying out their PhD and MS research in different countries like China, United States of America, Germany, Sweden, and Japan.
Future Plans
A non hydro-static model COSMO (COnsortium for Small Scale MOdeling) will be deployed. The use of this high resolution model will further improve the weather forecasts issued by PMD and also enhance the accuracy of weather predictions.
Risk assessment and vulnerabilities from Glacial Lake Outburst Floods in Northern Pakistan (GLOF) will be made, in collaboration with other National/ International Agencies. Furthermore, an Early warning system for GLOF will be established.
Impact of climate change on glacier melting and water cycle variability in Asian river basin will be made in collaboration with Asia Pacific Network (APN).
Future ensembles of daily weather variables will be obtained from the latest IPCC climate models using the AgMIP climate data format for multiple crop model simulations of impacts and agricultural adaptation for our region. In addition, a climate atlas of important climate variables and derived agriculturally-important indices will be produced. These atlases will include maps for use in scientific publications and for communication of results to stakeholders.
National Seismic Monitoring Center
Seismology is the scientific study of earthquakes and the propagation of elastic waves through the Earth or through other planet-like bodies. The field also includes studies of earthquake effects, such as tsunamis as well as diverse seismic sources such as volcanic, tectonic, oceanic, atmospheric, and artificial processes (such as explosions). Seismic Monitoring Center (SMC) holds the responsibility for seismic monitoring and tsunami early warning in Pakistan. It is the liability of the SMC to disseminate earthquake information to Government, non Government organization and to public after the occurrence of any event. The seismic monitoring technologies have been rapidly changed in the world. The seismic monitoring equipments have changed from analogue to digital technology. This enhanced the capability of the monitoring equipments and SMC is also equipped with these instruments.
We further divide the seismic stations sub-networks into two groups:
The Guralp Network system which has been purchased by the PMD
Pak China Seismograph Network (PCSN) (courtesy of China)
Combined, the Guralp and the PCSN include 20 stations (10 each) out of which 18 are working till date. Most stations reside in remote locations and require solar panels and batteries for power.
The SMC issues monthly reports of local activity, a monthly catalog of earthquake activity in Pakistan and neighboring countries (Afghanistan, Iran, China, India), and special-interest bulletins on local seismic events. Earthquake information provided in these reports is subject to revision as new information becomes available. An archive of all cataloged seismic event locations and magnitudes and related waveform data from the PCSN and Guralp is maintained by SMC on computer servers at the PMD. Continuous waveform data and associated station metadata from all available seismic stations is permanently archived at regional monitoring centers (Karachi, Lahore, Peshawar).
Achievements of SMC
Paper published in NRIAG Journal of Astronomy and Geophysics titled as Parameterization of 18th January 2011 Earthquake in Dalbadin Region, Southwest Pakistan
More than 5 meteorologists have completed their M.Sc Seismology up till now and few more are carrying out their MS and PHD research in different countries like Japan and China, in the field of Geophysics.
Probabilistic seismic Hazard Assessment for the city of Quetta, Pakistan
Hazard assessment, Risk Analysis and seismotectonic study of earthquake prone areas of Pakistan has been done.
Maintenance of Data Bank of all seismic event locations and magnitudes and related waveform data from the PCSN and Guralp on computer servers.
Timely press release of all the Major events occurred in Pakistan and rest of the world. SMC really made a difference in quick recording and analysis of the event that occurred on 24th September, 2013 at 11:29:50 GMT of magnitude 7.7, depth 12 km, and location 120 km SW of Khuzdar, Balochistan, Pakistan.
Phase-I of both projects in collaboration with NORSAR Norway and CEA China has been completed successfully.
Future Plans
Preparation of Year book for the year 2012 is under process and is about to be published in near future.
Preliminary Report on the event occurred on 24th September, 2013 at 11:29:50 GMT of magnitude 7.7, depth 12 km, and location 120 km SW of Khuzdar, Balochistan, Pakistan.
Phase-II of both the above mentioned projects is in progress.
---